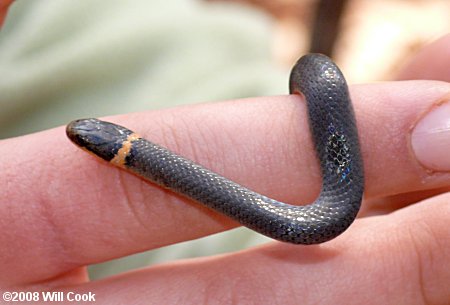 This weekend I did a lot of cleaning up the garden and pruning shrubs. A couple of weeks ago I had tackled these huge privet bushes that are at the end of the driveway. They had grown above the 10 ft fence! I did not plant these and I'm not sure how much longer they are going to remain. What is saving them is the thought of how difficult they will be to remove! Anyway, I left the clippings in a huge pile and on Sunday was clearing out the mess and found a little garter snake and a ringneck snake. Unfortunately I did not have my camera on me, but here's a picture of a ringneck snake courtesy of Will Cook at North Carolina Herb Photos. Garter snakes are very common, but I've never seen a ringneck snake. Although according to everything I've read about them, they are very common. It was an exciting critter to see!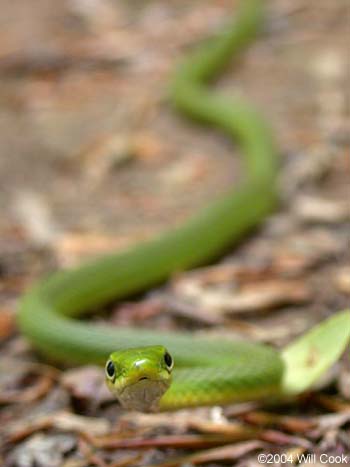 But that was not to be the end of snake Sunday. Next on my to do list was tackling the Rose of Sharon shrubs in front of the house. I also did not plant these. The good thing is that they are contained by a retaining wall so they can not take over the world because I'm pretty sure they would if they could! I do have to admit their flowers are nice and prolific. I was pruning away and not in a delicate manner. I was hacking the shrubs because I know they grow rapidly and can handle (and need) a serious cutting back. As I was chopping away, I almost chopped a green snake in two!! Luckily it moved and I stopped. It was a rough green snake. Another snake that I've never encountered. Once again I did not have my camera handy (this will teach me to prune with camera in reach!). Here's another photo courtesy of Will Cook at North Carolina Herb Photos.
Who says pruning is a boring task? My new mantra: prune often and carry a camera! Oh and watch what you are pruning.